About Us
Established in 2005, Grabbit +, an automatic snacks machine distributor, was born out of a keen desire to make available technologically advanced and quality vending machines for Corporate offices, Manufacturing units, Public locations (airport, theatres, malls etc.,) . Since then, we have been offering premium, customized vending solutions to all our happy customers who presently stand at over a million, in over a 1000 Locations.
Why Us
Grabbit + is not merely an automatic snacks Vending machine distributor or a vending machine maker in India but a service provider with solutions because we believe that people don't just buy products and services, but an experience.Continuous innovation has been the hallmark of our CUSTOMER FOCUSSED process driven operations & MODERN TECHNOLOGY by ETHICAL MEANS. We remain committed to augmenting our product range that supports a better lifestyle for our customers.
Branding
The vending machine service is growing rapidly and its future profitability has more room for imagination. In addition to sales of goods, vending machines itself are distributed to areas with high traffic, which makes it a natural resource to advertise. The evident appearance and eye-catching brandings can be a direct presentation to attract consumers. Vending machines can be a huge source of offline traffic to expand profitability.
Apart from being a product service provider, we also provide merchandising opportunities to companies. Our reach is spread across 1000+ corporate audiences, pan India.  Being a first of a kind niche servicing we provide merchandising and branding opportunities. 24×7 brand visibility which conveys the message directly to the target audience, free from any clutter. We permit brandings for companies to advertise their products on the panel of machines. We are a contemporary service, offering forms of advertising wherein your brand can directly be exposed to varied & right target audience to ensure greater reach. Our merchandising opportunities allow value for money broadcasting, specialized promotions and coverage to the right consumer base.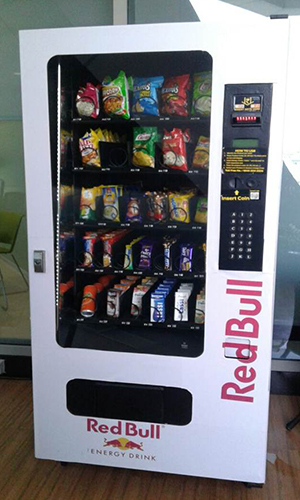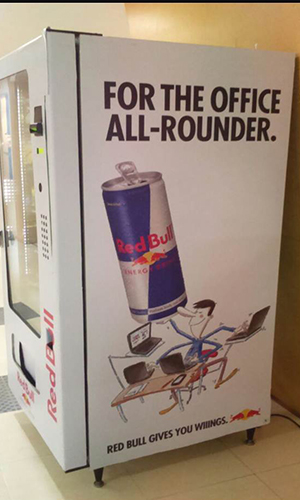 Testimonials
Hitesh Makwana
Senior Administrator - Cimpress India Private Ltd.
We wanted a vending machine installed at our corporate premises for better productivity of our employees but were unsure of our options. Grabbit+ made an appealing case, so after much consideration, we chose them as our vending service provider. It has been five years and we strongly recommend India's pioneer of snacks vending solutions.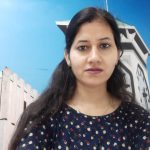 Pushpa Joshi
Rockwell Automation India Private Ltd - Admin Executive
We are satisfied with the services. From inspecting the location to setting up the machine, the process was carried out without any hassle. Grabbit+ really values the client's time.
Neeru Mittal
The Tata Power Company Limited - Associate (ES&A)
Everything about Grabbit signifies 'quality'.The snack and beverage brand options and their service focus, are all indicative of their commitment to delivering quality and efficiency to their customers.
Ganpat Dalvi
Four Seasons Hotel Mumbai - Director
When we decided to have a vending machine installed in our office, we were quite prepared to face delays in sourcing the appropriate one and having it installed. Grabbit proved us wrong and completely WOWED us with their prompt delivery and installation. We are so glad that we chose them – absolutely seamless and efficient service !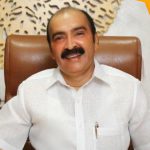 Mr. Jayaram Banan
JRB Group - ( M/S PJ BANAN ) - Group Chairman
We are happy that we chose Grabbit Premium Vending Solutions. They hold themselves to very rigorous standards, be it their products or services. More importantly,   they deliver on their commitment, consistently. Thanks you, Team Grabbit!
Istituto Marangoni/Navneet Patil
Finance and HR administration manager
We have recently installed the state of the art, Crane Merchant Media vending machine from Grabbit in our office. It is classy in design, sophisticated in technology and yet extremely user friendly. Thanks to its use of green technology, we have achieved energy savings and a smaller carbon footprint. Unparalleled experience in retail convenience !
Sudhakar Hanumanthiah
Manhattan Associates, Inc. - Manager – Facilities & Administration
"Manhattan Associates decided to go with 'Grabbit+' a trusted snack vending machine brand that is owned and managed by the reputed Empire Industries Ltd.  'Grabbit+' vending machines is a perfect blend of latest technology and design that fitted in to Manhattan's work environment perfectly.  Grabbit+ also offers undisruptive service by constant monitoring and refilling of products into the machines."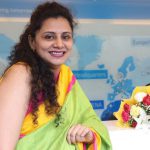 Aishwarya Dhairyawan
Thyssenkrupp Industrial Solutions (India) Private Limited (Formerly Uhde India Private Limited) - Sr. Coordinator – Administration
"Grabbit's products are the best in technology and quality. Their efficient customer service makes it very easy for us to deal with them. But, what is especially commendable is their Customer focus and after sales service. On the rare occasion when we faced an issue, not only did their Customer Care team patiently register it, but they also had the issue resolved in a matter of few hours."
Ketan More
Investec Capital Services India Pvt Ltd. - Admin
"Selecting the vending solution that works best for you can be quite a daunting task. But, Grabbit team of specialists understood our specific requirements and explained the various options available to us. Thanks to Grabbit, choosing the perfect solution became really easy."
Anand.Iyer
Intellect Design Arena Limited - Admin Manager
"We highly recommend Grabbit vending machines after having installed one in our office. Their machines have a sleek design, are technologically advanced and provide an easy to use convenience. But, that's just the product. What really sets them apart is their simplified processes and proactive attitude. They have excellent Relationship Managers who stay in touch regularly, lending that feeling of comfort to every interaction that we have with them. Great products and superior service!"